Paul and I met up at Leighton Buzzard Wargames club for a (quick and brutal) game of MeG.
What was I thinking?
Paul was using his Archmedian Persians, mostly shooty cavalry, backed up by great foot, Immortals, skilled shooter, short spear, loose, some superior, some average, all with pavise, all nasty.
I was using Sassanid Persians (as ignoring the bit about Alexander the Great and the Selucids, and the Parthians) claiming direct descendants from
Cyrus the Great.
I was slightly late, forgetting my own light horse and second average catafract unit, replacing them with foot spears (it's a hell of a proxy, never mind), as I was packing away '
King of Tokyo
', which I had been playing vs my two girls and the amazing Mrs Denham. A win for Cyber Kitty! Yay!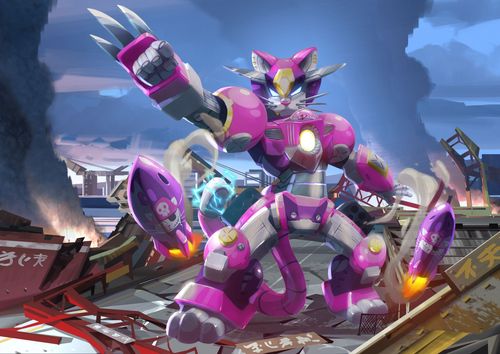 He's just like Bowie, but not as deadly!
Anyway, we met on the plains of Nineveh, 'Gad, it's a barren, featureless desert out there.'
'I
t's the other side sir!
'.
Paul's ally was almost unreliable, so close!
The two lines, my 9 TuGs and a SuG vs lots and lots of flexible cavalry. My catafracts in the centre, Paul's exceptional cavalry coming to meet them!
The action was joined quickly (as two mounted armies tend to do), as I
go bowling for buzzards
. Scattering flexible TuGs everywhere, even out shooting his mounted skilled bows!
On the left, my catafracts eye up the immortals, a nice easy target...
However, I blew the centre, as Paul found a flank on my average catafracts for his exceptional cavalry, blowing away my back rank in one charge.
However, one of my superior cavalry units caught and destroyed his TuG in skirmish (2-0), yay!
Also, Paul counter charged into my superior catafracts with his cavalry. Yes, that was a unit of six before combat! (4-0), leaving a direct charge of the superior Immortals behind.
Paul smashed my average catafracts with his exceptionals, and also soon took apart my superior cavalry that was hounding two flexible TuGs (4-4)
In the centre, my other two catafract units, well, failed to kill the superior immortals! Drat! I also lost two average cavalry units to Paul's light horse and average Immortals (in combat), not a good look. The problem is this army features too many 4s, which against shooty glory of Paul, is way too
brittle
! (4-8)
Thunder of cavalry shakes the camera!
And in the centre, my second average catafract unit, despite being better fighters, disintegrates, and the game is done (4-15).
The whole game only took 1 hour and 35 minutes! Brutal, but great fun.
I made a silly mistake which cost two of my best units, allowing Paul to flank them, as I got greedy. Also his Immortals certainly earned their pay, taking out three of my units and removing my superior catafracts from the open field. I am still learning horse archers and catafracts, and the nuances of getting them to work for me, but also this is Paul's 'go-to;' army, and he uses it really well, so I am happy with the result. Always a pleasure to play, and always a great challenge.
NEXT!